Reels
New

TANACOM 1200

RRP from $1099.00
Dominate the Deep
TANACOM has continually set the benchmark for quality and value for money in the electric reel space and the new TANACOM 1200 is set to elevate the bar once again.
All areas of the reel design have been overhauled with the development of TANACOM 1200, from an aluminium ball knob, to hugely functional changes like the increased speed & power. You will DOMINATE THE DEEP with TANACOM 1200.
View the Full Range
New

MAVERICK MQ

RRP $679.00
5 Models | Topwater Specialist
The new MAVERICK MQ is a brand-new saltwater spinning reel with the potential to turn heads, not only with its bold looks but also with what's under the bonnet.
MAVERICK MQ features a Monocoque (MQ) aluminium one-piece body which houses a G1 Duralumin drive gear, the same exact gear set that is found in the world-renowned 20 SALTIGA and 21 CERTATE SW.
View the Full Range
New

FREE SWIMMER BR

RRP from $269.00
2 Models Available | Bite 'N' Run Style
FREE SWIMMER BR's Bite'N'Run allows fish to take baits under minimal line tension to ensure a solid hookset is achieved.
Angler's will set the Bite'N'Run tension by adjusting the dial on the bottom of the reel, a wide range can be set to suit unweighted baits for finicky feeders such as whiting, up to quite strong settings suitable to live baiting large baits for hard-fighting predators like Kingfish & Mackerel.
View the Full Range
Rods
14 Models Available
Daiwa's flagship light-tackle rod series has been totally overhauled with the introduction of the 22 TD BATTLER AGS series. The pinnacle of Daiwa Australia rod design, 22 TD BATTLER AGS was a ground-up redevelopment with brand-new technology combining with decades of local knowledge and design experience from Daiwa's product development team in Australia.
16 Models Available
The all new 22 TD Zero rod range combines stylish looks and Daiwa's latest advanced designs and technologies, TD Zero is as feature packed as it is diverse with 16 models, including 9 spin and 7 baitcasters. Whether it's a finesse rod for your next bream or bass trip, or a heavy-duty baitcast or spin rod for muscling cod in the rivers and barra in the lakes, TD Zero has you covered.

Lures
New

STEEZ SOFT SHELL 90

RRP $16.99
10 Colours Available
The STEEZ Soft Shell is a uniquely designed soft vibration bait developed in Australia to offer a never before seen take on the soft vibration segment.
Designed to be fished close to the bottom with either a hopping or shaking retrieve, the Soft Shell excels targeting our freshwater predator species such as Yellowbelly, Barra, Australian Bass and more. In saltwater, it draws strikes from prawn feeding species such as Flathead, Mulloway and Snapper.
View the Full Range
New

BAIT JUNKIE JIG HEAD 2X

RRP $10.99
2x Wire | SaqSas Plating | BKK Hook
It all starts with the hook, and Bait Junkie Jig Heads are built around quality BKK hooks in combination with Daiwa's SaqSas hook coating.
Available in both a 2X strong BKK heavy wire and 0X BKK light wire hook, Bait Junkie Jig Heads come in almost 100 different shapes and sizes to perfectly cater to your chosen lure and depth of water.
View the Full Range
New

INFEET SAZANAMI

RRP $24.99
10 Colours Available
The INFEET SAZANAMI 60SP is a shallow running suspending jerkbait perfectly suited to targeting the shallow waters of our lakes and rivers.
Measuring 60mm long and weighing 3.5g, the INFEET SAZANAMI suspends in freshwater and floats very slowly in saltwater. Diving to a max depth of 4ft, the INFEET SAZANAMI is the go-to choice when fishing super skinny water for predatory species like Bream, Whiting, Flathead and Bass.
View the Full Range
Line
New

J-THREAD FC X-LINK

RRP from $24.99
4-20lb Available
J-Thread FC X-Link (Cross Link) FC is a totally revolutionary fluorocarbon line developed exclusively by Daiwa. The X-Link process is a game-changer for the fishing line industry.
The X-Link method alters the molecular structure of the line itself, which results in a line which is much stronger for its given diameter. Available in 4-20lb breaking strains and is made in Japan.
View the Full Range
New

SALTIGA X-LINK

RRP from $32.99
20-100lb Available
Saltiga FC X-Link (Cross Link) FC brings the advancements of X-Link technology to heavy fresh and saltwater arenas.
Daiwa's Tough Resin paired with the X-Link process creates a supple yet extremely abrasion resistant Fluorocarbon leader that retains knot strength.
Parallel spooled and is available from 20-100lb.
View the Full Range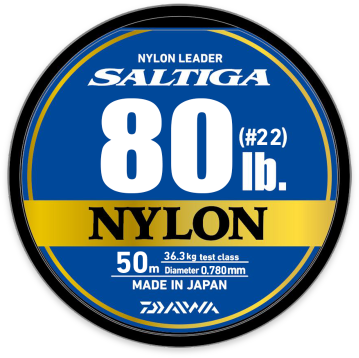 New

SALTIGA NYLON

RRP from $25.99
20-200lb Available
Saltiga Nylon Leader is the perfect fusion of strength and shock absorption.
"High knot strength" and "cushioning" are two of the key features of Saltiga Nylon allowing anglers to fish the line to its limit without fear of failure.
Available in 20-200lb there is a leader to suit every condition.
View the Full Range
Accessories
New

DAIWA D-BOX

RRP $14.99
The ultimate tackle storage solution
Daiwa's new range of tackle trays, D-BOX has been designed and developed to produce a cohesive range of purpose-built storage perfectly suited to the modern angler.
Available in a range of sizes & depths, Daiwa's D-BOX range is made from recycled polypropylene, a low-impact material which delivers no toxic waste, no emissions, no fluorocarbons & no halogens in its process.
View the Full Range
New

Bait Junkie Zip Case XS

RRP $27.99
The perfect soft plastic and gear storage
The new Bait Junkie Zip case will store soft plastic packets upright and keep them organised whilst on the boat or in storage.
It also fits the Daiwa D-Box SS &SR perfectly so you can store all you tackle in the one place.
View the Full Range
New

NEOPRENE REEL POUCH

RRP $19.99
Functional reel protection
The heavy duty neoprene pouches are designed to protect your reel and can be used when the reel is mounted on the rod or detached. The spinning reel covers feature an individual pocket for the handle and are available in a range of sizes to match with the reel size.
Perfect for storage at home and for travelling abroad!!
View the Full Range
Apparel
New

RIPPLE JERSEY

RRP $89.99
3 Colours | 6 Sizes Available
Adding to the new range of fishing apparel, the Ripple Jersey unhooded model features lightweight, quick drying material whilst maintaining a high level of stretch for all movements. The collar provides a close fit around the neck ensuring minimal UV exposure when matched with a high-quality Face Shield.
Also featuring the integrated thump loop on each sleeve, the Ripple Jersey will give you comfort and breathability on the water.
View the Full Range
New

RIPPLE HOODED JERSEY

RRP $99.99
3 Colours | 6 Sizes Available
Style, comfort and protection is what our product development team had in mind for the design and execution of this new fishing shirt.
Breathable material is incorporated on the back and under the arms to provide air flow, keep you cool and prevent heat from being trapped. With the addition of the hood and an integrated thumb loop located at the end of each sleeve the Hooded Ripple Jersey is tough against damaging UV rays.
View the Full Range
New

ANGLER UPF PANTS

RRP $119.99
2 Colours | 5 Sizes Available
Daiwa's new UPF Angler Pants are purposefully designed for the angler who is constantly on the move in the harsh Australian climate.
Lightweight, UPF 50+ rated 4-way stretch fabric is used to give the Angler Pants the utmost comfort and breathability for hot summer days on the boat or walking the bank. The material is quick drying and water repellent, so a small splash or shower won't have you soaked for hours.
View the Full Range
Experience the Future
SYDNEY SNAPPER OFF THE ROCKS || SENSOR SURF 45 SCW
Alex Bellissimo ventures out onto the rocks along the coast of Sydney, NSW. Alex was testing the new 22 SENSOR SURF 45 SCW searching and targeting sensational Snapper.
BLUE MOUNTAINS TROUT || 22 EXIST
Jakko Davis recently ventured to the Blue Mountains in pursuit of some trout before the season closed. Jakko was testing out the new 22 Exist and 22 Presso series of rods that will be available soon.
WHY DO YOU FISH? || FEEL ALIVE
Anglers are forever in pursuit of a great moment. Great moments spent in the outdoors amongst like minded people.
22 TD ZERO || HUNTER VALLEY BASS
Braden Schuch puts the new 22 TD Zero through its paces on one of the Hunter Valleys lesser known dams.