- NEW TACKLE AND TECH EXPLAINED -
CHECK OUT ALL THE NEW PRODUCT FROM AFTA 2023
Reels
New

23 TIERRA HD IC

RRP $699
2 Models | Light/Slow Jigging Specialist
IC or 'Intelligent Counter' reels are becoming increasingly sought after as anglers dive into the world of light & slow jigging, targeting fish that suspend off the bottom.
With IC equipped reels you see how deep your lure is by looking down at the screen on your reel. Available in both a 200 and 300 size, TIERRA HD IC sports a heavy-duty construction perfectly suited to Australian conditions.
View the Full Range
New

23 TD SOL HD

RRP from $399
Heavy Duty | Inshore Workhorse
TD SOL HD has been developed to suit Australia's harsh fishing conditions. A durable aluminium Monocoque (MQ) body houses Tough Digigear in a large diameter for extra power.
AIRDRIVE DESIGN reduces the reeling resistance when turning the handle making for a better angling experience. Fitted with carbon material drag washers sporting Daiwa's ATD drag technology, the TD SOL HD is ready to rock right out of the box!
View the Full Range
New

23 EXCELER

RRP from $169.99
AIRDRIVE | ZAION V | Screw-In Handle
23 Exceler gets a major overhaul with the introduction of AIRDRIVE Design.
Sporting the newly developed AIRDRIVE ROTOR, 23 Exceler is not only lighter than previous generations, but easier to wind. The new rotor & bail wire makes the initial rotation of the handle light as a feather. A tough, dependable light tackle reel for all skill levels, 23 Exceler is sure to be as big a hit as ever.
View the Full Range
Rods
18 Models Available
TD COMMANDER is a showcase of Daiwa Technology, with SVF Nanoplus blanks paired with X45X Full Shield technology to further elevate performance. With an expanded model line-up catering to both spin (10 models) & baitcast (8 models), north to south, there has never been more options to feel what Daiwa technology can do for your fishing
36 Models Available
Now into its third generation, Daiwa's TD BLACK is the largest range of light tackle rods developed specifically for the Australian market, with 36 models catering to everything from King George Whiting through to XOS Swimbaiting. Locally relevant & regionally optimized, Daiwa's TD BLACK rods represent Daiwa's dedication to producing the most well-rounded Australian specific range of light tackle rods on the market. The new series incorporates DAIWA's X45X Full Shield technology for the first time, and it is used throughout the entire length of the blank to maximise it's affect.
23-infeet-ex
23-infeet-z
23-infeet-s
23-tatula
23-td-hyper
23-saltist
23-wilderness-x
23-seabass
Lures
New

BAIT JUNKIE 3" PRAWN

RRP $11.99
Natural presentation | Amino X Scent
The new Bait Junkie 3" Prawn has been developed to mimic a prawn's natural movements. The three segment body design aids in a natural sink, where the tail can splay and produce a natural gliding sink back to the bottom. The forward facing legs derive from the 295 Flick's tail design and have been adjusted to produce a subtle shimmy action on the retrieve to emulate the natural quivering movement of prawn's legs.
View the Full Range
New

SILVER CREEK DR MINNOW II JOINT

RRP $19.99
3 Sizes | Jointed Minnow | BKK Hook
Daiwa's DR Minnow range of trout lures receives a facelift and a fresh look with the introduction to the SilverCreek family. The new SilverCreek DR Minnow II boasts 3 models within the range, a 42mm and 50mm sinking minnow perfect for fast flowing streams and rivers, and a 70mm floating minnow targeting the larger water looking for that big bite. A host of new colours in the range, all purpose designed for Australian conditions make the new DR Minnow II one of the most well-crafted trout lure ranges available.
View the Full Range
Long Cast | Through Wire | BKK Hooks
Heavy weighted sinking minnows dominate where fast retrieves and distance casting is paramount. The new Sawarash from Daiwa is a fully through-wired bibbed minnow which has been designed to target pelagic speedsters such as Tuna, Mackerel & more. Featuring a heavily keel weighted design, Sawarash exhibits a stable swimming action even at the fastest of speeds. It can be paused to let it sink down to target deeper water or twitched to exhibit a more traditional side-to-side jerkbait action.
View the Full Range
Line
New

J-BRAID x8 EXPEDITION

RRP from $49.99
8-90lb Available | Coating PE
J-BRAID EXPEDITION's silicon coating means the braid does not absorb any water, importantly this means the braid also does not absorb the silt & sediment present in that water which is the #1 cause of braided line wear over time. By shedding the water, J-BRAID EXPEDITION will last longer than traditional braided lines, providing more value & greater performance. Available in two colour options in 150m, 300m, 500m and 3000m bulk spools in a full spectrum of PE ratings.
View the Full Range
New

SALTIGA DURASENSOR x8

RRP from $59.99
Available in PE #0.6 - PE #8
Saltiga DURASENSOR X8 braided line is a 8-weave braided line, made in Japan using the latest DAIWA technology to produce a silky smooth, super thin line which is perfect for a host of fishing scenarios in Australia. Featuring DAIWA's MUSCLE PE fibres for a higher abrasion resistance and more durability, Saltiga DURASENSOR X8 is a very tough braided line, despite its very thin diameter. MUSCLE PE fibres are up to 4x more abrasion resistant than normal braided lines.
View the Full Range
Accessories
New

DAIWA D-BOX

RRP from $14.99
New EGI Box | Ultimate tackle storage solutions
Daiwa's new range of tackle trays, D-BOX has been designed and developed to produce a cohesive range of purpose-built storage perfectly suited to the modern angler. Available in a range of sizes & depths, Daiwa's D-BOX range is made from recycled polypropylene, a low-impact material which delivers no toxic waste, no emissions, no fluorocarbons & no halogens in its process.
View the Full Range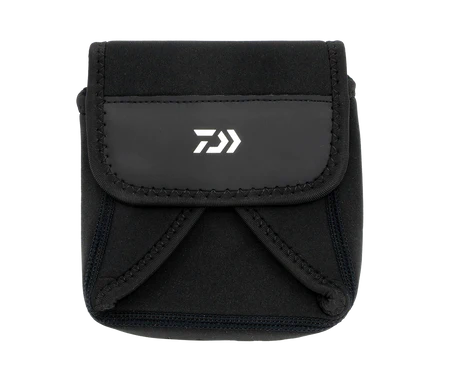 New

NEOPRENE REEL POUCH

RRP $19.99
New Neo Covers | Functional reel protection
The heavy duty neoprene pouches are designed to protect your reel and can be used when the reel is mounted on the rod or detached. The spinning reel covers feature an individual pocket for the handle and are available in a range of sizes to match both spin and baitcast reels in varying sizes. Perfect for storage at home and for travelling abroad!!
View the Full Range
Experience the Future
23 SALTIGA || Break Your Record
Arguably the most sought after and long-awaited release in recent Daiwa history, a small-size SALTIGA is now available. 23 SALTIGA represents the pinnacle of DAIWA engineering progress over the past decade, and features every bit of technology to make the new SALTIGA the best mid-size saltwater spin reel DAIWA has ever produced!
STEEZ SOFT SHELL 90 || Hawkesbury River Mulloway
We join Justin Duggan as he takes his first look at the New Steez Soft Shell 90 vibe and head out to chase the elusive silver ghost, the Mighty Mulloway. Justin takes us through some tips on how to target Mulloway, what to look for and also how he works the Soft Shell vibe to get the bites!
FREE SWIMMER BR || New Zealand Snapper
Watch the Daiwa NZ crew put the New FREE SWIMMER BR through its paces on some solid New Zealand Snapper. We headed out from Whangaroa Marina in the far north of New Zealand on Nautilus Charters in search of some big snapper to test out the new reels and they performed flawlessly!
22 TD ZERO || HUNTER VALLEY BASS
Braden Schuch puts the new 22 TD Zero through its paces on one of the Hunter Valleys lesser known dams.